---
{{item.currency}}
{{pricing}}
---
---
{{item.currency}}
{{pricing}}
{{item.currency}} {{item.normalPrice}}
---
{{item.currency}} {{pricing}} - Out of Stock

MF Disc Harrows
Perfect fit for MF Tractors
Massey Ferguson offers a comprehensive range of top quality disc harrows from mounted, to tandem and trailed.
Each model has a heavy-duty frame, hydraulic transport and depth control wheels, thick discs and robust and independently adjustable scrapers.
The perfect match for MF tractors from 35 to 130hp, each MF disc harrow is equipped with quick and easy attachments for hassle-free hitching, and a hydraulic opening and locking system allowing adjustment according to soil conditions.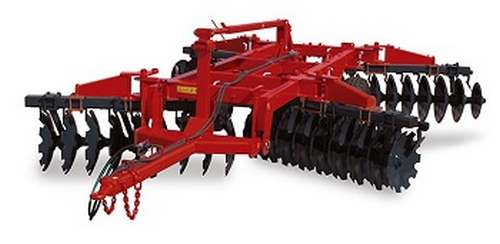 HARROWS
BPI ROTARY HARROW
For loosening hard crusted and compacted soil after heavy rains
This implement is mounted to the three-point linkage of the tractor.
Models are available in the following configurations: single or tandem carts per row. The single carts consist of 4 wheels with 16 tines per wheel and the tandem cart consist of 4 wheels in front and 3 wheels at the rear with 16 tines on each wheel.
The 116 three-point mounted Rotary Harrow is utilised for harrowing directly on the row to crumble the soil crust.
Operating speed of 12km/h is recommended for optimum performance.
The single axle model should be used in lighter soil types and the tandem model in heavier soils
Proven spoon-shaped tines ensure effective performance
Sections are adjustable on the beam to suit different row widths
By reversing the circle plate, it will lessen possible damage to recently germinated plants
Optional equipment includes: loose sections for single axle and tandem models.

HARROWS

ZIG-ZAG HARROW

The BPI Zig Zag Harrows are mainly used to crush clods and to level a seedbed after ploughing
They are used to control weeds and to cover seed or fertilizer that has been sprayed out and can also be used to aerate pastures.
Zig Zag Tine Harrows are characterised by a wide working width and 20 steel treated tines per section
Tine Harrows may have rigid or flexible frames as well as rectangular or triangular
The Zig Zag Harrows can be hooked up in parallel with a 2, 3, 4 or 5 section draw bar.

HARROWS

ROTARY HARROW CART

Rugged construction with angle iron frame
Rotary harrow gangs mounted on sealed bearings
Loosens soil crust after heavy down pour
Loosens top soil after planting time
Control of young germinated weeds.