---
{{item.currency}}
{{pricing}}
---
---
{{item.currency}}
{{pricing}}
{{item.currency}} {{item.normalPrice}}
---
{{item.currency}} {{pricing}} - Out of Stock

Technology – Taking things to a new level
Telemetry / AgCommand™
The machine's position is determined by Global Positioning Satellites (GPS), with data being collected from its Controller Area Network (CANBUS) and GPS referenced. This information streams through a mobile phone network to the Challenger central server, which can then be accessed by users – farmers, managers, contractors, dealers, etc – via any secure internet connection. This can be an office PC, tablet or Smart Phone.
AgCommand now provides no fewer than 13 new services within the core telemetry menu, including baler-specific functions for the benefit of hay and forage producers. In addition, a new mobile application allows users to manage their mechanical operations more productively. This valuable facility is available as a free download via the Apple App Store, for both iphone and ipad.
Challenger AgCommand Telemetry Systems are available in three specification levels with varying degrees for precision to exactly meet the demands of individual businesses.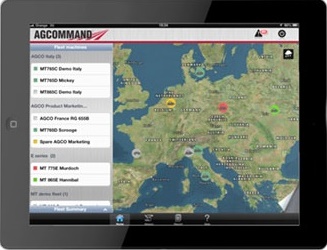 Automatic Guidance
The Guidance Benefit
Around 80% of your farming costs are variable costs such as fuel, fertilizer, seeding material, etc. Independent comparisons prove that using guidance saves at least 4% on inputs per hectare. This is achieved by increasing accuracy and minimizing overlaps to make best use of implements in all light and weather conditions.
Guidance also allows the operator to focus on the implement, getting the best out of your equipment, and reduces fatigue for improved productivity and comfort.
Auto-Guide TM 3000 TopDock
Offering maximum scalability, from Sub Meter to Decimeter to RTK Accuracy, the Auto GuideTM 3000 Top Dock receiver allows you to select the level of accuracy required for your operation or implement and is interchangeable between all Challenger equipment.
It receives OmniSTAR G2/HP satellite correction signals for proven reliability and repeatability. The system is easily upgradeable should increased levels of accuracy be required – an RTK snap-in is ready to receive both RTK Radio corrections and RTK NTRIP corrections over GSM Network.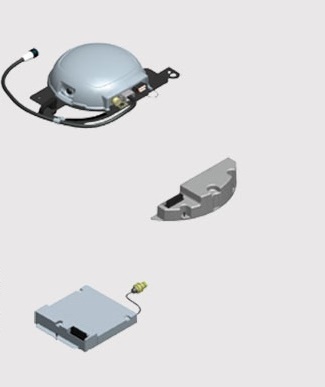 Auto-GuideTM 3000 Basic
Offering full machine control from one single screen, Auto-GuideTM 3000 Basic is available for Tracked Tractors and the RoGator 700 (Eastern Europe).
This system features easy-to-use GO Mode, ideal for less experienced operators – it guides you through guidance set-up and gets you working in seconds.
Auto-GuideTM 3000 Basic is available up to the highest RTK accuracy, making it suitable for more demanding operations such as strip tillage and seeding.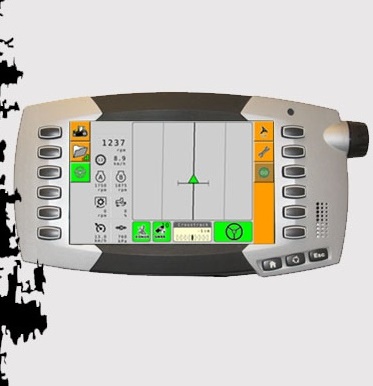 Auto-GuideTM 3000 Advanced
Auto-GuideTM 3000 Advanced is a full featured guidance solution which uses the C3000 12.1 inch Touchscreen display and offers a highly intuitive menu structure.
Now available as a factory-fitted option for the full Challenger fleet, you can access all advanced guidance functionalities, including recording or loading field boundaries, creating headland lines, field sizes and more using Auto-GuideTM 3000 Advanced.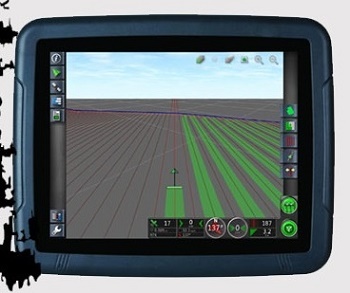 Application Control
Rate and Section Control Variable Rate Control
On Challenger RoGators, the C3000 terminal controls the rate and automatically switches between up to 10 sections for crop protection products and liquid fertilizer. As the rate control has been developed and tuned specifically for the RoGator Spray Pack, this offers the highest quality product application. In addition, Opti-Sonic boom control achieves unbeatable boom stability, operator comfort and peace-of-mind during long working days. User-friendly control and application accuracy pay off.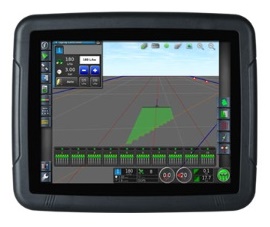 TMC Display
C3000
The Tractor Management Centre (TMC) is the basic tractor control display which puts Challenger Tracked Tractor and RoGator operators in complete control. TMC offers the easiest operation and machine set-up from one single screen.
All machine control functions can be operated from the TMC – adapt engine and transmission settings, switch to camera view for maximum visibility under difficult conditions, or use the Task Controller for documenting your jobs.
On tracked tractors, the TMC display conforms to ISO.xml data exchange standards for easy task exchange with most Farm Management Software packages. Import all task data into your preferred software system at one click.
The newest technologies like Auto-Guide 3000 Basic and Opti-Sonic boom control (RoGator) or AgControl Rate and Section Control (RoGator 700) are integrated into the TMC for easy operation.
TMC is fully ISOBUS-compliant offering easy implement control and ISOBUS task documentation at the click of a button.
On Tracked Tractors the One-TouchTM headland management system helps to increase output and ease the workload by storing up to 35 functions for eight different implements and replays these at the touch of a button.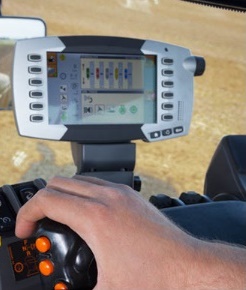 Isobus
The international ISOBUS standard brings an end to cluttered cabs by allowing a single terminal to control and monitor implements designed to the same standard.
ISOBUS 11783 allows an implement manufacturer's control system to be displayed on the console screen. Time and money is saved as there is no need for additional terminals in the cab.
Challenger's equipment is designed to the ISOBUS 11783 standard. Simply plug the implement lead into the tractor's ISOBUS socket and the system automatically uploads the operating menus and displays them on the screen. The new, optional C3000 screen also offers ISOBUS capabilities if you want to display the information on a larger screen.
The information for each implement shown on the console terminal, regardless of manufacturer, follows the same routine of scrolling through menus, selection buttons and activation.