---
{{item.currency}}
{{pricing}}
---
---
{{item.currency}}
{{pricing}}
{{item.currency}} {{item.normalPrice}}
---
{{item.currency}} {{pricing}} - Out of Stock

RoGator 1100 & 1300 | 337 – 370 HP
These easy-to-run RoGators have the superior power, reliability and technology to live up to your expectations in all conditions.
As the industry benchmark for control and accuracy, these RoGator booms feature streamlined plumbing and variable hose sizes to maintain constant pressure. A multiple-filter system minimizes nozzle clogging and wear to ensure consistent, accurate application.
The front reload option provides a direct line to a tender truck without having to fold and unfold your booms. An optional air cleanout pushes product out of the front reload line and into the product tank.
The booms tilt above and below horizontal, allowing you to adjust them for varying terrain while keeping them at the correct spray height.
Liquid Systems
The RG1100 and RG1300 Series' are equipped with a professional liquid system that features stainless steel product tanks, an easy-to-use reload station and a conveniently located rinse station.
Dry Systems
Pneumatic spreaders or spinners, the RG1100 and RG1300 Series' gives you the choices you need for dry product application. All of our dry systems feature durable construction and corrosion-resistant materials for sure, dependable performance.
Combo Systems
With the RG1100 and RG1300 models, you can switch from liquid application to dry fertilizer application in less than a day's time, enabling you to maximize your investment with multi-season use.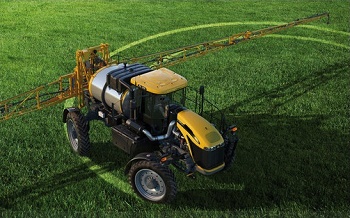 RoGator 700 | 173 HP
The Lightweight Champion
The RG700 combines Challenger professional-grade quality and dependability with the flexibility to meet spraying requirements which dictate a smaller tank size. It offers the latest technology plus a superb operator environment.
Lightweight design for year-round spraying flexibility
Powerful, high-torque AGCO POWERTM LRC 173hp engine
Smart Drive System intelligent all-wheel drive with traction control as standard
Efficient filling design with new sight glass for easy fill level monitoring
Choice of 24 or 27 meter booms with Norac boom height control
Leading technology systems with AGCONTROL information center and AGCOMMANDTM telemetry
A 2650 liter tank means more time spraying, less time refilling and comes with a rounded bottom for ultra-consistent mixing.
The RG700 uses a direct path from the fill area to the pump and the pump to the tank. This means more efficient product flow, reduced product build-up and much cleaner transitions between products.
With both an external sight gauge for reloading and an in-cab tank-level sensor, fill levels can be quickly and easily monitored. A proven Hypro 9303 centrifugal pump works with the liquid system which is designed to achieve maximum output flow and industry leading tip-to-tip application accuracy.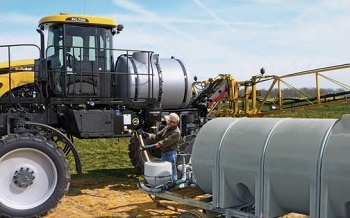 SPRACOUPE 7000 | 24–30 M BOOM WIDTH
High Speed Coverage
The comfortable SC7000 series sprayers can spray the traditional way or the spra-coupe high speed way so you have the right sprayer no matter what the conditions.
Emission-compliant engines feature electronic engine management to ensure the speed that you want, right where you need it. Complying with the most stringent emissions legislation, Caterpillar® diesel engines ensure that more power and even higher torque are matched perfectly to the job.
The engine's power is connected to the rear wheels by a Cat PG 115 Power shift transmission, incorporating a fully electronic shift on-the-go with six forward speeds and two reverse. In between is a torque converter. The wheels are driven by chains and internal planetary gears and standard hydraulic front wheel assist provides 4WD.
Independent spring suspension at the front, independent knee action suspension with coil spring at the back and the "Flex" frame combine to give the SC7000 series superb drive and boom stability.
A combination of a highly stable chassis, secure spray boom and reliable spray system, provides the perfect tool to protect your crops at all times.
The flow-based spraying system is controlled by a Raven™ 5000 series spray computer, capable of controlling direct injection of two additional products.
The hydraulically controlled Hypro® centrifugal pump has a 300 liter/min capacity, providing enough flow to guarantee a wide spraying range.
Stable, lightweight booms with boom breakaway security are available from 24/27/28/30 and 36 meters and have five sections as standard.
Boom height:
SC7450
Low position: 35 cm – 179 cm
High position: 75 cm – 219 cm
SC7650
Low position: 51 cm – 195 cm
High position: 91 cm – 235 cm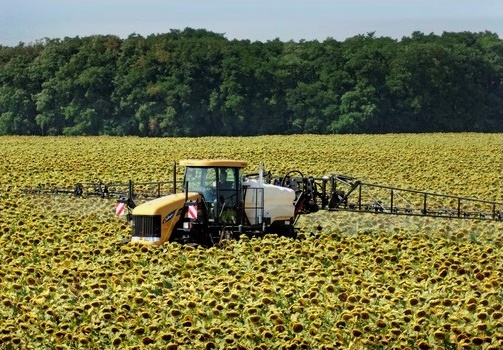 SPRACOUPE 4000 | 18–28 M BOOM WIDTH
Lightweight High Speed
The high-clearance SpraCoupe 4000 series has plenty of power to spray at high speeds. The last 40 years of development means they are better engineered, with more efficiency and durability to help you manage your crops.
The engine's power is connected to the rear wheels by a 5 gear manual gearbox or optional fully automatic 5 gear transmission. The wheels are driven by chains and internal planetary gears.
Independent spring suspension at the front, knee action suspension with coil spring at the back and the "Flex" frame combine to give the SC4000 series superb drive and boom stability.
Driven by a centrifugal pump with an adjustable boom height, this flow-based spraying system provides a perfect spray for all crop stages. The operator can easily and accurately control the system with Raven™ Spray Control computer.
The 1575 ltr tank ensures that the machine's low weight can be maintained. Stable, lightweight booms with boom breakaway security are available from 18 to 28 meters and have five sections as standard.
Boom height:
SC 4450
Low position: 229mm–1626mm
High position: 635mm–2032mm
SC 4650
Low position: 533mm–1930mm
High position: 940mm–2337mm