---
{{item.currency}}
{{pricing}}
---
---
{{item.currency}}
{{pricing}}
{{item.currency}} {{item.normalPrice}}
---
{{item.currency}} {{pricing}} - Out of Stock

MF WR 9800 | Windrowers
Quality Hay and Grain Harvesting Starts Here
The latest generation of Massey Ferguson WR 9800 Series self-propelled windrowers.
They bring the industry's most sophisticated technology to the field – making them the easiest, most efficient windrowers to operate, whether you're an experienced operator or a first-timer.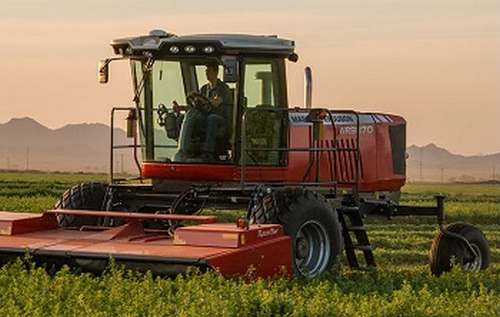 CH500C Series | 313 - 502 HP
Harvest More Hectares In Less Time
The 500C combine harvester offers new levels of capacity and efficiency to give optimum outputs in any crop, any conditions. Operator comfort and ease of use is at a premium, with the latest cab and controls.
Latest generation AGCO Power High torque engine
V-Cool™ System that runs at optimum efficiency using less power
Simple drives for efficient transmission of power
Increased cab comfort
Complete IsoBUS interface controls all functions via C2100 terminal
New processor boosts throughput while enhancing grain quality
The fastest unloading rate in the industry
New straw chopper for a very fine cut
Advanced technology to stay in control of the harvest
At the core of the Challenger 600 range of combines is the huge, heavy-duty Advanced Harvest System (AHS), at 700mm diameter on the CH660B and CH670B and 800mm diameter on the CH680B, combined with an overall length of 3.55m on all models.
Hydrostatically driven, the rotor enables a significant boost in operational efficiency to be achieved through its ability to harvest at a constant rotor speed, which means any output and top grain quality are maintained.
The constant speed rotor control system maintains the selected rotor speed even though the crop yield may vary or engine speed change. The rotor can be reversed remotely from the cab to remove any blockage that may occur.
The smooth, flexible three-speed rotor drive gearbox provides selection of the optimum speed range to match the rotor speed and drive torque to the crop harvest conditions. The CH660B and CH670B are equipped with a two speed rotor drive gearbox.