For all official information and updates regarding Covid-19 visit the South African Department of Health website at
www.SAcoronavirus.co.za
or their WhatsApp line on 0600-123456. If you want your own WhatsApp Chatbot visit
www.whatskonnekt.com
ALM Tractor World is the home of Massey Ferguson tractors, Massey Ferguson implements, Challenger Sprayers, Challenger Combines, Challenger tractors, Equalizer planters, the full range of Bpi Implements and lots more. You will find us at 51 Venus St. Sasolburg in the Free State.

ALM Tractor World is one of the largest Tractor dealerships in South Africa and in our showroom you will find the full range of Massey Ferguson and Challenger products as well as a large assortment of used tractors.

Alongside the showroom ALM Tractor World has a 2,000 sqm workshop that carries out repairs on all makes of tractors, sprayers and combines. We have a spares department with a substantial stock holding and we can supply parts for any brand of tractor as well as a large variety of agricultural consumables.

Our Suppliers:

Massey Ferguson
Challenger
Equalizer
BPI
Bednar

Polaris Linhai Van Zyl Staalwerke Feeler Terra Firma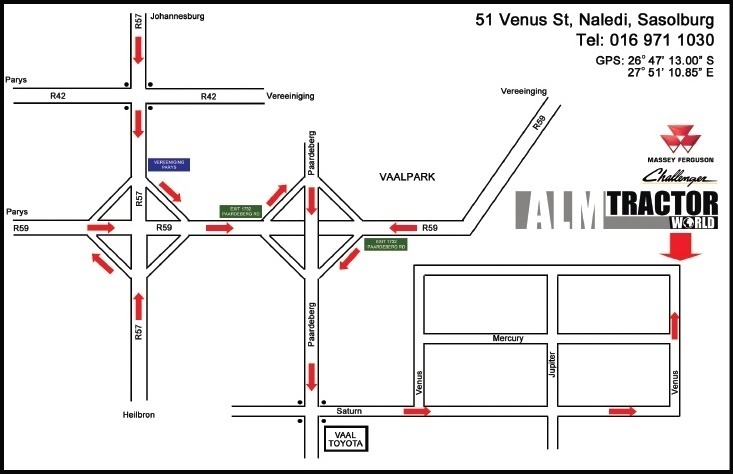 ALM Tractor World is the home of Massey Ferguson tractors, Massey Ferguson implements, Challenger Sprayers, Challenger Combines, Challenger tractors, Equalizer planters, the full range of Bpi Implements and lots more. You will find us at 51 Venus St. Sasolburg in the Free State.
ALM Tractor World is one of the largest Tractor dealerships in South Africa and in our showroom you will find the full range of Massey Ferguson and Challenger products as well as a large assortment of used tractors.
Alongside the showroom ALM Tractor World has a 2,000 sqm workshop that carries out repairs on all makes of tractors, sprayers and combines. We have a spares department with a substantial stock holding and we can supply parts for any brand of tractor as well as a large variety of agricultural consumables.
Polaris Linhai Van Zyl Staalwerke Feeler Terra Firma